innovative design solutions
System Studies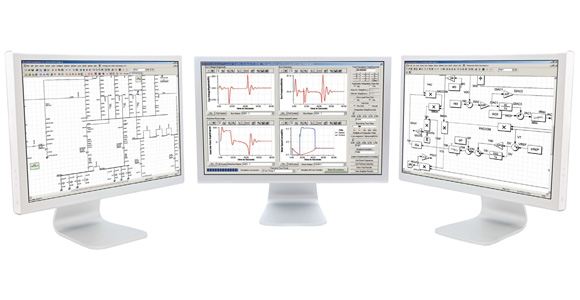 DAR Engineering offers full range of power systems studies and engineering services to utilities, IPP's (Conventional / Renewable) & Industries covering new projects, expansion projects and performance improvement studies of the existing Electrical Network.
Power system behavior is very complex because of network size, different voltage levels, non-linear elements characteristics, Machine dynamics, FACTS etc. Power system problems are further contributed by grid operating procedures, switching operations, stored energies, power system state before the disturbance, human errors etc. Apart from primary power system issues, there are also secondary effects of the power system that significantly impact the power system stability and its behavior.
DAR Engineering acquired full knowledge of such issues in the power system and also familiar with the utility practices, IPP's and industrial Power System Study requirements. DAR Engineering experts are fully aware of International practices/standards and Published Technical articles in the field of power system developments. This expertise and knowledge aids DAR Engineering to provide precise and optimum solution for any power system study and analysis.
In general, Power system studies are covered by two different software i.e., EMT type studies (E.g., Switching, Lightning, Induced voltages studies etc.) and NON-EMT type studies (E.g., Load flow, Short Circuit, Transient stability studies, EMI, etc.)  
DAR uses State-of-the art software for conducting various power system studies and analyzes the system problems in detail to provide techno-economic solutions. Our success is based on our well proficient and dedicated design team, using high-tech design software tools and close interaction with equipment manufacturers, site team during execution and utility engineers.
Power system elements are vast in types and quantities and each type of element response is unique under steady state, dynamic and transient conditions. Hence, it is mandatory to understand the power system elements behavior in detail and our engineering team is fully capable of meeting this critical requirements.
Each sector of power system (Generation, Transmission, Distribution and Industrial system) has respective unique requirement and DAR Engineering have successfully executed many different projects for these sectors.
Power system elements design data study and preparation of specification can also be covered for various power system sectors.
1. Studies Covered
Power Flow Studies.
Short Circuit Studies.
Reactive Power assessment.
Capacitor Locations and Sizing.
Voltage Stability Analysis.
Transient Stability Analysis.
Load Shedding
Generation Rejection
Protection System Studies (Overcurrent phase and earth fault, High set, Differential, Distance, Frequency, Voltage).
Equipment Protection Applications (Transformers, Transmission lines, Motors, Generators, Bus Protection).
Harmonic Measurements, Analysis.
Voltage flicker studies.
Insulation Coordination.
Motor Starting Studies.
Bus Transfer study.
Arc Flash Hazard analysis.
Line Constants & Parameter Evaluation.
Induced voltages on buried pipe lines running under the transmission line corridor.

2. Services Offered
New Projects feasibility.
Equipment design.
Equipment verification.
Failure Analysis.
Existing problem mitigation.
System performance review.
Site Measurements.
Site investigations.

3. Industries served
Transmission utilities.
Distribution utilities.
Power generation companies.
EPC contracting and construction companies.
Oil & Gas industry.
Metals & mining industry.
Chemicals, cement and fertilizers industry.

Power System Study Software
ETAP – OTI, USA
To perform Load Flow, Short Circuit, Transient stability, Motor starting, Load shedding, Automatic Bus transfer and protection coordination studies.

PSCAD – Manitoba, Canada
To perform Electromagnetic transient studies including insulation coordination, Reactor sizing, Ferro-resonance and Harmonic assessment studies.

PSSE – Siemens-PTI, USA
To perform Load Flow, Short Circuit, Dynamic stability, Motor starting, Load shedding, Automatic Bus transfer studies.

EMTP-RV, CEATI, Canada
To perform Electromagnetic transient studies including insulation coordination, reactor sizing & Ferro-resonance studies.

ROWPro – SES, Canada
To perform Electro Magnetic Interference analysis from electric power lines and cables to pipelines, railways, communication lines and other such utilities, whether buried or aboveground.

CDEGS – SES, Canada
To perform Multilayer Grounding calculation, Earth mat current distribution, etc.

SIGNATURE PROJECT
QUICK LINKS